Choosing the ideal strategy for You: Tips & key indicators
This article and any related information is for educational purposes only. This information should not be considered financial or investment advice. Always conduct your own research (DYOR) before making any decisions. Never invest more funds than you can afford to lose._
Copy trading enables Traders to create and control their own strategies, or follow strategies of other successful traders. A Strategy is essentially a pool of a trader's funds that Followers can copy by simply enrolling their own funds, creating a mutually beneficial opportunity for both skilled traders and followers to increase their profit potential.
On Margex, Followers can copy multiple strategies at once, which allows both Followers and Traders, to maximise each other's profit potential.
However, with numerous copy trading strategies to choose from, it can be difficult to know which ones best suit You. In this article, we'll take a look at some of the key factors worth considering when choosing a strategy(s) to follow.
Generally, the more Equity a Trader allocates to their Strategy, the stronger their commitment to utilizing safer trading methods and proper risk management tools and techniques. This is a crucial factor in measuring their commitment to the success of their strategy and the funds at stake: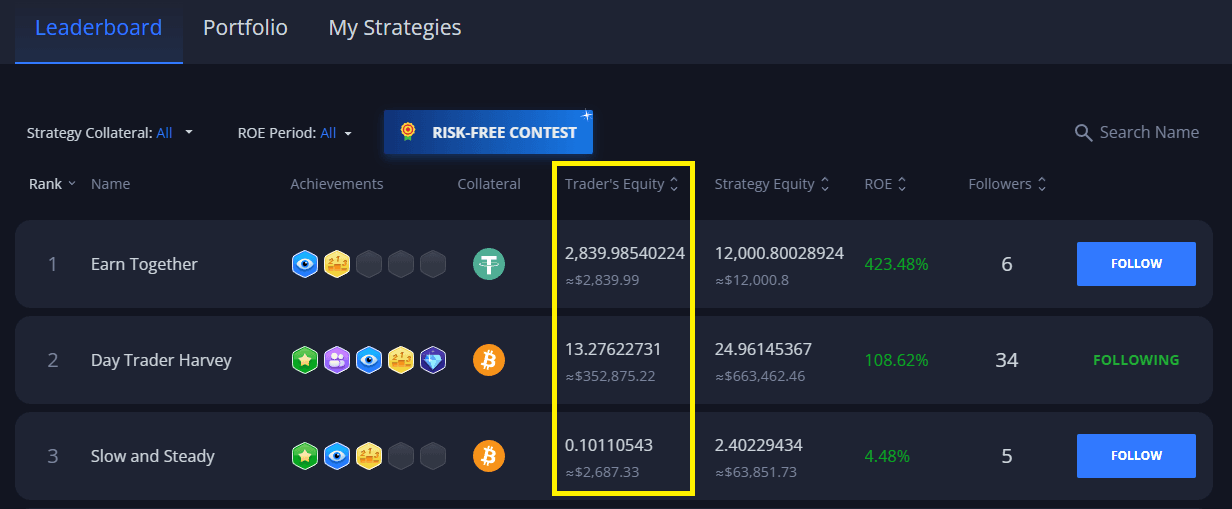 This indicator is worth considering as a potential sign of a strategy with effective techniques and risk management, ideal for those seeking stability and reliability.
It is important to note that, while a Strategy's age alone doesn't guarantee success, a strategy that has been active for a longer period of time provides more insight into its profitability trends, history and rate of success.

This factor is a valuable indicator of overall reliability that is worth taking into account when choosing a Strategy.
Strategy ROE% and Equity charts
These key indicators often reflect profitability trends, growth potential and overall strategy performance. Generally, higher ROE% values can be a good reflection of the overall success of a strategy. However, it is important to keep in mind that newly created strategies with high profitability/ROE% but low Strategy Age' may use high-risk techniques, which can quickly bring high rewards but may not suit Followers seeking stable, low-risk Strategies.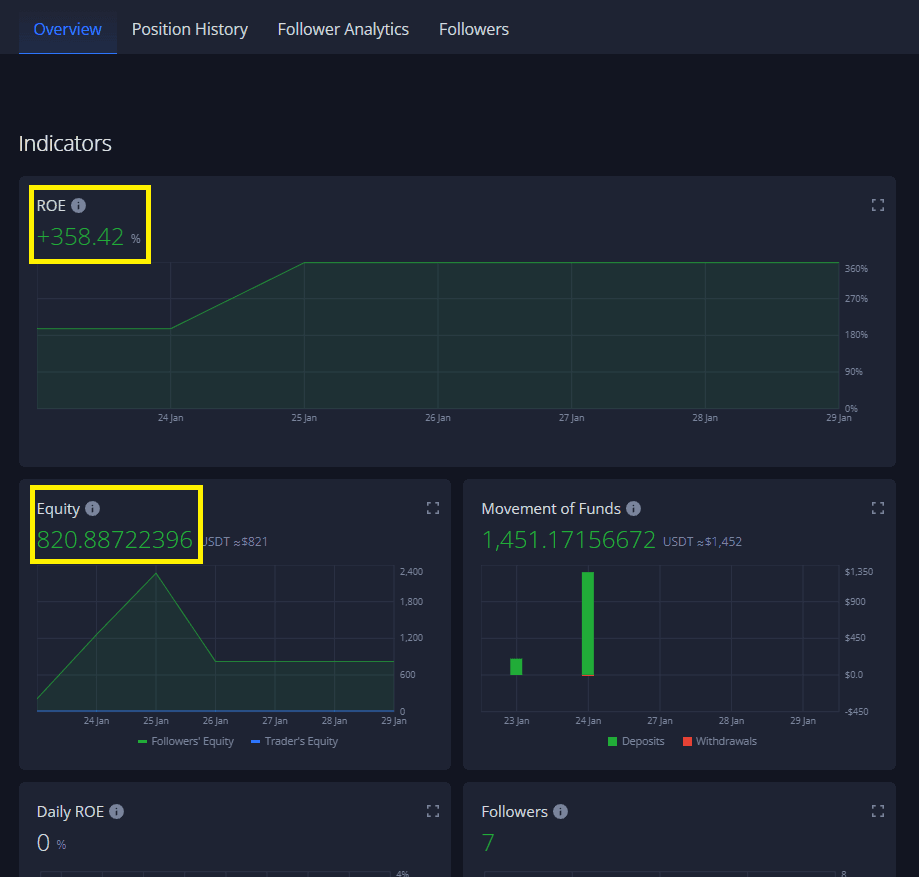 Before starting copy trading, it's important for each Follower to assess their risk tolerance. Different copy trading strategies have different levels of risk, so it is important to choose one that aligns with the Follower's comfort level.
Reviewing a Strategy's description and technical aspects and trading history (if made visible to the public by the Trader), can help Followers better understand a Trader's approach to trading as well as their preferred trading methods/techniques: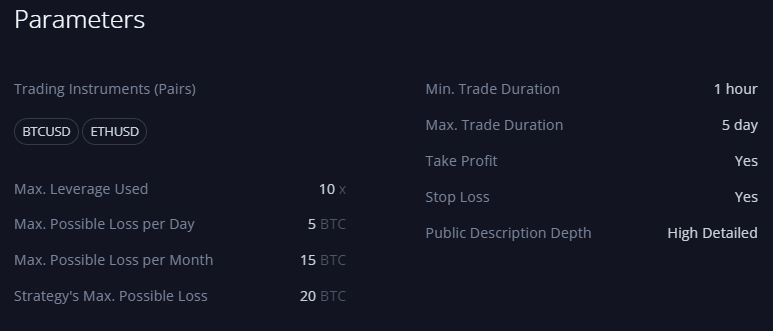 For example:
A conservative Follower, looking for long-term growth and minimal risks, may prefer strategy that focuses on steady gains over time, by using lower leverage, take profit/stop loss protection orders and more consistent trading techniques

On the other hand, a Follower which prefers strategies with a high-risk-high-reward approach, may be more interested in following a strategy that employs more aggressive and bold trading techniques with higher leverage.
Follower Tiers Rewards (Profit Distribution)
This key indicator is straightforward and reflects the distribution of profit between the Trader and the Follower from successful trades.

For example, some Strategies provide several Follower Tiers. Each tier increase the Follower's share of profit based on their equity in the strategy. This provides Followers with the opportunity to further increase their profit potential and earn higher rewards.
In conclusion, choosing the right copy trading strategies to follow requires consideration of several factors, for example a Follower's risk tolerance, profit goals, preferred trading style, strategy history, the amount of funds to use for a Strategy and other factors. By taking the time to assess such key indicators, Followers may find it easier to choose the strategies that are right for them and start enjoying the benefits of copy trading on Margex.
This article and any related information is for educational purposes only. This information should not be considered financial or investment advice. Always conduct your own research (DYOR) before making any decisions. Never invest more funds than you can afford to lose._